How to Chat With Customers Online: 9 Effective Tips for Customer Support
Customer expectations are increasing.
Now, how updated do you always meet their expectations?
No doubt, instant help is their top priority, and live chat is the solution.
Except, that's just the first step.
Your customer support operators need to know how to chat with customers online to keep them engaged with your brand.
In this post, we aim to cover nine amazing online chat tips to help your business reduce customer churn by 67% and increase acquisitions.
9 Amazing Tips on How to Chat With Customers Online
Did you know that 12% of Americans rate their top customer service frustration as "lack of speed"?
Reflect that your brand is:
Not ready with the right solution
And they Not ready to respond immediately
Not aware of customer pain points
However, if you try to answer questions too quickly, your resolution may lack effectiveness. Either way, you can create a poor customer service experience that can cause customers to immediately abandon your brand. And it's not just theory. 4 in 10 consumers would tell their friends and family not to buy from a brand responsible for creating a bad experience.
#1: Initiate Conversational Chat
No operator is always equipped with chat management skills. This is something they gain with experience. Starting a conversational chat with customers is also part of the skills operators acquire over some time.
Even when using live chat software, you need to make sure that your tone doesn't sound robotic to customers during the conversation. This will turn them off and ultimately draw you to your competitors.
Therefore, operators need to step back and work to provide solutions in a polite conversational tone.
You should avoid this type of conversation:
Hello Miranda. how are you today
Do you need help? / How can I help you?
Starting a conversation like this can easily turn off your customers. Not only that, this approach makes it difficult for your customer to connect with your brand.
Therefore, it is better to take a conversational approach and start the conversation with your customers using a personal approach, such as:
Hi Miranda, I hope you are having a great day!
I see you've been browsing this web page for a while, can I help you?
This way, you gain the trust of your customers and make them feel valued.
#2: Ask for more information, show empathy
Empathy itself is more than a feeling for a person. It is a process of understanding, sharing, and working on customer problems.
Clients generally prefer to help themselves. But they are not averse to asking for help when needed. Empathize with your customers and their needs. Follow these tips when interacting with a customer about their issues:
Explain the complaint to ensure you are on the same page as your customer.
Share your feelings with customers. If they are frustrated or upset about the current situation, let them know that if you were in their shoes, you would be upset too.
Give your customers a few options to choose from. Also, explain the benefits of each option and the reasons why you recommend it.
#3: Never Say "I Don't Know"
The reason a customer seeks live chat support is to get a solution.
If a customer comes to you with a question and simply replies "I don't know" or "I don't have a solution to your problem right now." It will annoy your client.
It is always important to listen to your customer's problems and understand what needs to be done. If you can't resolve the issue, it's best to let the customer know that you'll get back to them soon.
This lets your client understand that the problem is not open-ended and that you will come up with a reasonable solution.
#4: Transfer Chat to Right Department
As a chat operator, you cannot expect to be able to solve all problems related to all the products and services your company offers. Don't be embarrassed if you need to transfer the chat to another expert who specializes in that particular field.
It is not wrong to admit that you do not have the necessary experience to deal with the problem at hand. Use intelligent chat routing to transfer the conversation to an expert in the field with replication to existing conversations.
Having the right person at the right time to serve the customer goes a long way in providing a pleasant customer experience.
#5: No Harm in Admitting Your Fault
One mistake that many customer support operators make is to avoid their errors.
There is no guilt in admitting your guilt!
Instead of knowing who is responsible, customers simply need a solution to their problems. So if you find yourself in a situation like this, you can take the conversation further:
"I've investigated your issue and I'm sorry to inform you that we were at fault for the delay (or any other issue your customer faced).
But, the bright side is that we fixed it and now you won't have the same problem again.
We apologize for the inconvenience."
Adopting this approach earns customers' trust and increases brand value in the long run.
#6: Learn to Take Follow-Ups
The rise of e-commerce and the digital age has led to growth in one key area: impulse buying. Although impulse buying is on the rise, additional communication is still needed. This is where following up with the customer helps.
Buyers are already interested in your products, so you don't have to start from scratch on follow-ups. You're not trying to capture customers' interest, you have to keep it. Following up with your customer helps keep that interest alive without too much effort.
Keep these things in mind when following up with your customers:
Tell them who you are and the company you are associated with.
Check previous conversations so they can identify you.
Let them know you are contacting them to help them
In your follow-up email, summarize your previous conversation with them
#7: Don't Make Customers Wait – Continuity is the Key
Every customer wants to get instant support. A delay not only results in lost customers but can affect your brand name.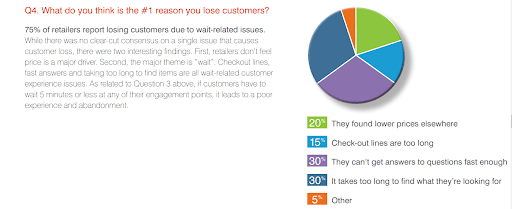 According to a study, businesses reported that they lost 75% of their customers due to long wait times. So make sure you resolve all customer queries immediately or at least within 48 hours
If a problem cannot be resolved within 48 hours, it is important to inform the customer and ensure that they are contacted within the specified time frame.
#8: Recognize Your Returning Customers
Focusing on winning new customers is important, but even more important is retaining your current customer base. 68% of customers leave your business because they feel they don't care. -keep-your-customers-doing-what-you-do
This is a great number!
So how do you ensure that your repeat customers stay with you?
Treat them like you would a first-time visitor/customer.
Making your customers feel at home is the best way to retain them and spread the word about your customer service.
#9: Attentiveness is All They Seek
82% of consumers in the US report that they have stopped doing business with a company because of poor customer service. Just one bad customer experience can make all the difference in the world.
Instead of spending your time and effort solving your customers' problems, make sure you prioritize the problems and treat them with utmost care.
Bonus Customer Support Chat Tips
If you thought I was going to leave you with just nine amazing online chat tips, you're wrong.
I have some additional customer support chat tips for you in-store. They are sure to help you empower your operators for total customer success. Let's take a look at them below.
#1: Let Customers Know if The Solution is on the Way
Once a customer connects with your brand via live chat, they feel confident that a solution is on the way.
But is the solution really on the way?
Some technical issues require immediate assistance, but that doesn't mean they can be resolved quickly Operators can fix the problem immediately, but implementation can take minutes, hours, or even days.
In situations like this, what do you do?
Well, he politely lets his customers know that the technical team has found a solution to their problem and tells them how long it will take for his team to implement it.
Understand that, when informing the customer about the solution, they may assume that you are already working on it or that you have solved their problem. So, be sure to clear things up, let them know the current status, and give them a tentative timeline for when they can expect the solution to be implemented.
#2: Avoid Using Canned Responses (Personalize for Human Touch)
All chats with your customers automatically make them nervous.
"Hello, Maria, how may I help you?"
"Do you want to continue like this?"
"Why don't you try the process again and see if it works?"
"Sorry, we don't understand your question."
…and so on.
Yes, canned responses help you give instant answers to your customers, but when a customer needs a solution, such messages won't help you.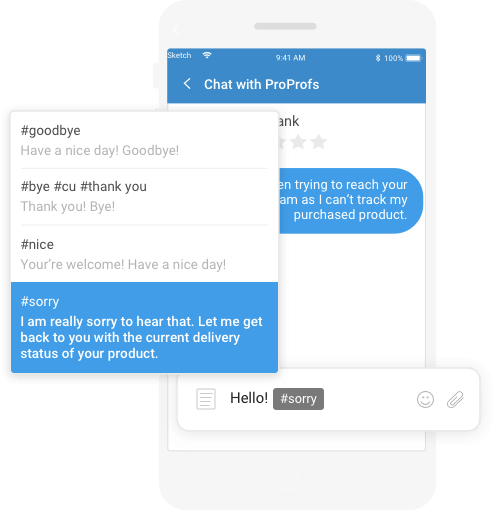 Use canned responses, but learn to limit your use of them. Jump into a conversation, address a customer question, and resolve it instantly to increase your customer satisfaction rate.
#3: Keep a Confident Tone 
Trust is the key to helping customers and giving them a perfect customer service experience.
Say something like:
"I think that's how you should go about this situation."
"Let me see why this is happening and let me get back to you in a moment."
"You don't seem to be getting what I'm saying."
All these examples simply say that you are not confident enough to provide a solution. Even if he does, the client will be apprehensive about following his advice.
And that's not what you want. So be confident. The correct way to say the above phrases to your customers is:
"This is how this situation should be approached…"
"So you are facing this problem and this is the solution…"
"I am explaining to you the process of how to deal with this problem…"
This way, you will not only sound secure but also gain the trust of your customers and ensure that they know that the solution they receive will be reliable and foolproof.
Implement Online Chat Tips for a Successful Customer Experience
Live chat has simplified the way of communication for both customers and businesses. Customers can connect with a brand in real-time regardless of their time zone. Additionally, customers expect the brand to be faster, and closer and provide them with the solution they were looking for.
And while these and other benefits of live chat help brands create a successful customer journey, your work doesn't end when you add the tool to your website. It is your operator who uses the tool to provide instant resolution to your customers. Therefore, it is important to train them to be more polite, empathetic, and understanding toward their customers while interacting with them through live chat.
With this in mind, we have made sure to cover some of the best customer support chat tips in this article We welcome your suggestions for more tips in the comments section below. Now, let's take a look at some frequently asked questions to help you easily follow live chat best practices.
Q. How can I improve my chat customer service?
The trick to improving your chat customer service is to put yourself in your customer's shoes. You need to understand their feelings and emotions so that you can best help them.
Q. What are chat tags?
You can read here about what chat etiquette is and how certain practices can help your operators increase customer satisfaction.
Q. What are the best practices for live chat customer service?
In addition to the tips mentioned in this blog, it is very important to understand that your business is driven by the perspective of your company's customers. Therefore, keeping your customers happy and ensuring perfect customer service are best practices that every company should follow.
Q. What makes a perfect live chat?
A perfect live chat instant. It is self-contained. And for the customer, it's like talking to a friend instead of a salesperson.
Read more.